By Dustan Duncan....
This is a post from one hunter to the next about an experience and dream that came true.

I'm from Texas, hunted all over the state, hunted Oklahoma, Kansas, and Nebraska, I have always dreamed of hunting/chasing Mule Deer out West. In September/October of 2020 the conversation came up again between a friend of mine and I, sparking the interest again.

I jump on the good Ol internet and start doing my research and calling guides. Boy is there a big difference hunting out west and what I am used to back in Texas etc. I start calling and emailing guides, and was blown away with the lack of response, care and just flat-out rudeness. If I got a response after sending an incredibly detailed email I would get ďHow Can I Help YouĒ call back next year, we're booked and so on...

Then the phone rings, I knew it was someone I had contacted, and I almost ignored the call, sure glad I didnít!!! As I answer the phone, I get a VERY outgoing personality that says ď You Want To Come Out West And Chase Muley'sĒ I respond with yes sir. What I get for the next 30-45 minutes maybe even long, was more information than I ever expected from someone that truly enjoys and has a passion for what he does. The call ends with look at your calendar ill look at mine and letís chat in a few days and see what we can come up with. A few days, maybe a week goes by, the ball is in my court. I make the call, no answer, send a text no response, and there goes the wind in my sails. A few more days goes by and I get a text. ďVery sorry I havenít gotten back with you, Iím in an area where I get very little service and am with a client on a Desert Sheep hunting trip, I do my VERY best to give my client 100% of my time when I take them out, I'll call you in a few days, does X date and X time work for you?Ē

At X date and X time to the minute the phone rings, Bruce explained he was on a hunting trip, giving me all the details, once again I could see feel his passion. We nail down the dates of the trip and start the weekly/biweekly phone calls ironing out the details of when, where, what to expect, what not to except, what to bring, not to bring, meals, day to day activity and so on.

As the dates of my trip get closer and closer the call become more and more frequent. I started to fly out but then would have had to check my bows, hope they didnít get damaged, lost or who knows what else, so I decided to drive. My plans were to drive halfway, rest for the night drive the rest of the way the next day getting to his camp on the afternoon on the date we discussed. Traveling when very well and I actually made the trip in one day of driving, putting me there a day early. I call Bruce and tell him where I am and that I had actually gotten there a day early and would see him first thing the next morning the morning of the day I was scheduled to arrive, not the after if that was ok. He tells me ďNO SIRĒ come on into camp a day early. He helps me get things out of my truck and settled in, we sit around for a few minutes making small talk and he tells me how he wants to get up the next morning and do some more scouting, and the alarm will be going off about 5:30am. The next morning (the day Iím actually scheduled to arrive) the alarm goes off just as he said it would, coffee was made and ready with in just a few minutes then here comes the amazing homemade pastry his wife a made for us. We get dressed and walk out the door, and I jump in the passenger side of his side by side. Bruce tells me, go get your bow, we might be scouting but you never know when the opportunity may come, as my season is in full swing. I am thinking Iím not even scheduled to be here until this afternoon and we are starting the hunt basically a day early. Over the next 7 days, our days were EXACTLY as he stated they would be, from breakfast to the day's activity to what was for dinner. We saw deer 5 of the 7 days, the only 2 days we did not see deer were the 2 days it was raining. We, I passed on 2 or 3 stalks and I failed on 3. All in all, we would have had about 6 stalks on what turned out to be a 5-day hunt. What impressed me the most was his passion and positive outlook. On the last day of my hunt, we started a stalk at about 12:30, that last for almost 3 hours, putting us at about 3:30 in the afternoon. As Iím bent over trying to catch my breath, he hands me a bottle of water, says come on get in you can catch your breath while we go find another Buck. This is the last few hours of the hunt, most would have just given up at this point, after 7 days of sunup to sundown giving it your all. Bruce did not give up for one minute. Some of you might say, I know Bruce and heís 70 years old, and that concerns or scares you, well it should not !!!!! He is up before you, in bed after you, will out spot/glass you, out stalk you, look back and encourage you to come on. He is truly and amazing man, a great guide and a man of his word.

My only regret is that I did not meet him 20 years ago. He will put you on the deer, no question about it. Oh yeah do not try and book the 2nd or 3rd week of January with him, those are my weeks.

If youíre looking for a great hunt with a great guy look him up, give him a call. Once again Bruce Thank You for an amazing trip & see you soon.

Provided By,

Dustan Duncan
Dallas, TX.
---

By Tony Lavezzo....
"The Education was Worth the Price of Admission the Ram was a Bonus"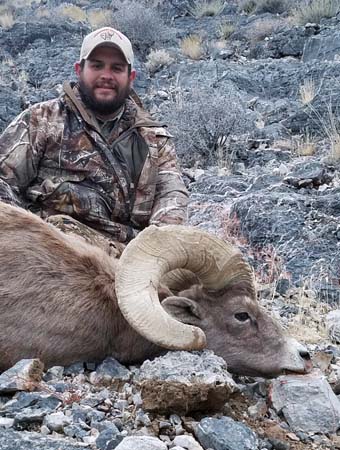 After drawing a 2019 Desert Ram tag in unit 254, I contacted Bruce Hudson the owner and Master Guide for Silver Grand Outfitters. I discussed the zone and asked his experience with the area, after a good conversation I knew this was the outfitter with the experience for MY hunt. I arrived at camp to be met by Bruce with camp already set up and ready to go. Camp consisted of a 37' fifth wheel with everything you may need and a Polaris Ranger ready to go. We went out that afternoon and saw sheep & every day from then on. We hunted the unit from the Ranger using the BIG KOWA 32X to find rams and hiked into areas that no one else had hunted. The terrain was very harsh but Bruce knew the area so well that all of our hikes were fruitful, never hiking into an area that did not hold rams. During a ten day hunt we never had to hunt the same spot back to back and had an opportunity to harvest a ram every day, Bruce's knowledge of the area was unparalleled. I was able to harvest a 10-year-old ram on the 10th day and it made all the effort worth it. This was the hardest hunt of my life and without Bruce and Silver Grand Outfitters I would not have seen the quality animal that I harvested and without Bruce I would not have learned hunting tactics that I will use for a lifetime.

Provided By,

Tony Lavezzo
Reno, Nevada
---

By Sam Thomas....
It was late fall of 2014 and I was going through my possible hunt opportunities for 2015. I had no real deer options except possibly to draw a tag through the outfitter draw in Nevada. Not knowing any guides in Nevada I started doing some research on Monster Muleys. I posted a few questions and Bruce just happened to answer one of my questions. After our first phone conversation and reading the testimonials on his site, speaking with some of the references I decided to try and draw a tag using SilverGrand Outfitters. As luck would have it I did draw a tag.

Nov. 2015 and off to Las Vegas to meet up with Bruce for the hunt. Accommodations were first rate! Bruce has a 37' toy hauler with all the bells and whistles. Meals were very good as Bruce is a great cook and he runs a great camp! As for optics, only the best were used. Swarovski binoculars and spotting scope and 32 x 82 Kowa "BIG EYES" Binos. We were able to spot deer over 2 miles away with the Kowas!!!

We hunted hard for 7 days and glassed up plenty of deer. Bruce always was positive and went the extra mile to try and find the deer we were looking for. I believe the weather might have played somewhat of a factor. There was already snow in the mountains and on the second day we received up to an additional 6 inches in some places. We put in some serious time behind the glass and when that didn't pan out we went on a few different climbs to get a different view of the area. We did manage to see some young bucks that will be dandies in another year or two.

Last morning with time running out we went to the glassing area to look for a mature buck. After putting in some time behind the glass we went to check out another area and bumped into some deer. Things happened fast from here. The deer were moving in and out of a draw when a rutting buck came out the draw chasing a doe, that I decided to take. One shot at 200 yards and the hunt was over.

It was a great experience and I have already made arrangement to hunt with Bruce again when lucky enough to draw a tag. Bruce is a man of great character and about as easy going as they come. One word of advice, don't take the bet on who can spot deer first. Out of seven days, I only won once. He even gave me first chance behind the glass. If you're looking for a great guide and someone who know's how to get it done, then give Bruce a call, you won't be disappointed.

Provided By,

Sam Thomas
Acworth, GA.
---

By Chris Mathison....
I had the good fortune of getting to know Bruce Hudson in 2014, while researching for a Mule Deer hunt that fall. I came across Silver Grand Outfitters & immediately gave Bruce a call in Henderson, NV. Finding Bruce to be knowledgeable and attentive to what I wanted in a hunt, providing me with good info and insight to secure a quality Mule Deer tag in Nevada, I ended up applying for the N.R. Restricted Guided Mule Deer Hunt and was drawn in a unit that is known for BIG BUCKS ... Bruce suggested hunting last 8 days of Nov as THE RUT would be on.

After a Summer of anticipation I arrived in L.V., NV the 3rd friday of Nov. Bruce picked me up at the airport and I immediately got a good 1st impression of him. He was friendly, easy to converse with and a good story teller. Although our drive to deer camp was hours in duration, the time went by quickly as we swapped hunt stories. After arriving at camp and settling in, I shot my rifle and we toured the hunt area in a Polaris Ranger Crew. I retired for the night, Excited!!!

Bruce & I hunted hard for the next 8 days. We put many miles on his UTV, on our boots and even more hours GLASSING. Conditions turned and weather warmed 20 plus degrees the norm and with that came heavy winds keeping the deer herds in tight canyons out of sight during daylight hours. On most days, bucks were spotted, but not the BIG BUCKS we were after and the unit is known for. During the entire hunt, Bruce remained very positive, encouraging and upbeat. His attitude kept me motivated and assured me that a trophy buck would be found ... while I had several opportunities to take a decent buck, I was not successful in harvesting a trophy buck. I have learned over the years that the success of a hunt is measured by more than just the kill. I enjoyed all of my preparation and the times spent away from the comforts of home. I got to see and experience an area of the country I had never hunted and enjoyed some breath taking views. I had a great time hunting ... We both put forth 100% effort mentally & physically during these 8 plus days while in the mountains of S. NV. Experiencing the peace and solitude of a remote, well run hunting camp, away from the stress of daily life. I also developed a relationship with a Hunter/Outfitter with vast knowledge of both NV & AZ who is willing to share with ... Bruce shares similar ethics and values and respects the game he pursues and the land he hunts.

I have hunted and fished in 8 Western states & 4 Canadian Provinces both guided & non-guided. I have experienced both good and bad within the outfitting business, and I would highly recommend Bruce Hudson & Silver Grand Outfitters. Being reputable, knowledgeable, and experienced. Bruce will tailor a clients needs & restrictions. The camp is clean, comfortable and organized and he is an excellent camp chef. Bruce puts forth MAXIMUM effort and does the guiding himself. I hope to be hunting with Bruce again in the near future.

Provided By,

Chris Mathison, DDS
Fargo, ND.
---

By Guy M. Wells....
It all starts with one thing a coveted Nevada, California Big Horn Sheep tag. Hopefully it ends with a quality trophy to be proud of. Everything in the middle is the adventure. My name is Guy Wells, and this is the story of my adventure.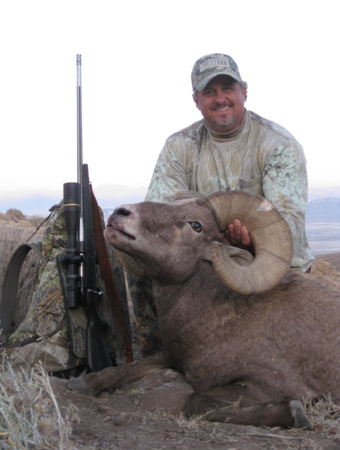 I received the tag from NDOW on the spring of 2009 after applying just about every year since 1981 when I was 17 years old. Prior to the draw, I enlisted the help of a trusted friend, Bruce Hudson, of Silver Grand Outfitters to identify the best areas to apply for. Now most of my outdoor experience has been that the work starts after you pull the trigger. Not in this case. With the news of my tag traveling fast in a small circle, Bruce walked in my office to rejoice, shake hands, and let me know I needed to lose about 10 pounds before the beginning of the hunt. Being no stranger to the gym, I just laughed at him and told him to get himself ready. I quietly took heed and ramped up my workout regimen. This included increasing my treadmill work while carrying weights and loading a backpack to walk with. While I was in the relative comfort of the gym in mid-summer, the outside temperature was soaring around 105 degrees. Bruce and friends were up in the rugged desert hills of High Rock locating sheep. Finally it was time for me to join Bruce and two family friends, Les "Griz" Nesbit, and Bill "Doc"Smith in the High Rock Mountains of Northern Nevada for a sheep hunt of a life time.

The drive up past Pyramid Lake into the chaos of Burning Man, finally lead me to my camp two days prior to the opening of the season. I was eager to explore the lay of the land and hopefully see some sheep before the opening day of the hunt. Despite my efforts, I showed up to sheep camp five pounds lighter, not the ten pounds I'd hoped for. That would soon be rectified by the terrain. Silver Grand Outfitters made a very comfortable camp for the crew. I was ecstatic to get a hot shower, warm bed, and hot meal every night after a long tough day in the field. The first two days were spent behind my Leupold spotting scope and Ziess 10x binoculars. We spotted sheep both days but didn't see anything worth chasing on the opener.

Opening day was proceeded by restless sleep and anticipation of carrying my 30-378 Weatherby Magnum on my shoulder with a full backpack. The morning started like the others with 3:30 am coffee, a quick breakfast, and off to the mountains. Bruce and I sat atop what Bruce called a knoll, but I called a small mountain with a fair climb. As we sat and glassed the area as the sun came up, Bruce spotted sheep so far away I thought they were stumps from a long past fire. It seemed like hours and the stumps started getting up to move and the stalk was on. Four miles across hills and valleys we spied the sheep that were still moving. We made a stalk to get closer and get a better look at the Rams in the bunch. Swirling winds and the sun no longer in our favor made all movement a challenge. We dropped below a ridge for cover and made the final stalk within 250 yards of the sheep.

We tucked into a pile of rocks as Les, Bruce and I glassed the Rams. We sat, glassed, and scored the lead Ram. After serious consideration and it being the beginning of the season, I passed at my shot after having the Ram solid in my crosshairs. Sun now in the afternoon glow, we left the sheep without them ever knowing what fate had granted them that day. The four miles over hills and valleys back to the quad and back to camp awaited us. A juicy barbeque steak grilled to perfection, salad, and baked potato satisfied our hungry appetites as soon as we arrived back to camp. Off to bed I went.

One day didn't go by that we weren't into sheep. On the third day we decided to climb a mountain we had seen sheep on during scouting. Bill and Les sat this one out. At dawn, Bruce and I started up the mountain. By afternoon we summated and found a cave to cool off in and give our worn out legs time to recover. After 1 hours rest, we stayed in the shadows and went looking for my Ram. Half a mile through the rim rock, we made sheep once again. At 200 hundred yards we took a very close look. No shooters. We backed away without them ever knowing we were there. We had hunted, glassed, stalked, and walked the area extensively and decided it was time to move camp closer to the area we were now hunting to cut down the drive time from camp. Upon arrival into camp, it was time for a Chinese fire drill 6 days in camp, and all equipment needed to be gathered and loaded for the move. Everything flew from the ground into the pick ups, piled up like the Beverly Hillbilly's. We moved camp.

New camp was made on the eastside of High Rock. The first morning we found bigger mountains and fewer roads. The area my tag was in is a wilderness area, so vehicle travel was strictly limited. I can't explain how exelerating, satisfying and challenging it was to wake up in the morning and look upon huge rugged mountains. By noon we were looking down the tops of those same mountains, but now covered in sweat and dust after we hiked and clawed our way to the tops. With three days left, the 30-378 Weatherby Magnum now felt like a Volkswagen over my shoulder, and my pack was then stripped of all but the necessities for the day. Finally we made a good Ram. It was the best we've seen so far. It was time to get down to business. Now as we plotted our strategic plan, we found the sun dry, hot, and windy. The terrain was against us. Yes, we were just on the wrong mountain to be able to access that Ram, so back down the mountain sliding on our butts, skidding almost vertical down the mountain we went.

We climbed at mid day to the other side which was equally vertical, going straight up to the heavens. The body just isn't what it used to be. As we ascended the mountain to get above the Ram, my knee started to swell and give out. Determined to make this happen, and time running out on the hunt, I pressed on. Bruce and I got to the top mid afternoon so we could once again use the shadows to cover our presence in their world. We got above some Rim Rock as the Sheep started to move down to water. There was one gap in the Rim Rock so we positioned ourselves above the opening and waited. Now late afternoon, we sat in excited anticipation. First, a ewe walked into the opening, then a Ram. Then the big boy walked in front of the ewe. Knowing the power of the 30-378, I had to wait for the Ram to clear. In these precise moments of our being, we achieve that point of extreme accomplishment or excruciating humility. Bruce's voice rang in my ear, "He is clear. Take him." I started to gently squeeze the trigger and the report of the round rang in the canyon. I turned to look at Bruce, expecting a smile, and he said, "You missed". Excruciating humility was the order of that day. I was in a bad place. My knee was gone, I was out of time, but more than anything, the whole nine days had lead up to this one moment and that was not what was suppose to happen. I found a stick and silently struggled down the mountain, physically and internally battered.

The next day, we found other sheep. We hiked to a point to look, yet found no good Rams. I struggled with all the dark internal thoughts of the miss the day before, and now walked with a limp to mask the pain in my knee. We looked the final morning without success. It was time to go home. Eight hours to drive home and think. It didn't take long for me to know this was not how my hunt was going to end.

After tests and physical therapy for my knee, I contacted Bruce at Silver Grand Outfitters to see if he could squeeze me in for another assault on the mountains. He found six days at the end of the season to accommodate one more chance. I had to take it. After a few weeks of recovery at home, I went back to the High Rock Mountains.

The final challenge began with us in sheep right away. My buddies, Bill, Grizz, (with the addition of Shane Smith), and I all sat and looked at a band of about 40 sheep. The rut was in full swing now. Bruce and I got a closer look at the sheep about 350 yards. There was a good Ram in the bunch. We named him "Silver Dollar", due to a silver dollar sized chip out of h is horn that was glaring white compared to his other wise dark horns. Being the first day, we passed our shoot of Silver Dollar, believing if needed, we could come back. Boy, could those Rams cover ground during the rut looking for ewes that were in season. The more mountains we climbed, we found yet more sheep in different areas. Up we went. The fighting among the Rams was worth the trip back to watch. At one point, two rams cracked heads and we thought a rifle went off. Around the rocks came the two fighters. As we sat and glassed, we were in their world, among them. What an experience. We saw Rams chasing ewes, looking for a date and Rams fighting for the chance. It was about this time when Bill said,"Hey, look over there!" We all turned our attention to where Bill had spotted a band of Rams with one Good one in it. After close study, Bruce and I decided to try to close the 1 mile distance and hook our shoot. No sooner did we start to get ready to move and the ram and one of his buddies decided to look elsewhere and off they went over the mountain. We walked off the mountain and the next morning went to look for Silver Dollar. No luck. It appeared he too had moved on.

We drove around the mountain spotting sheep from time to time. We ended up on the backside of the mountain where we saw the Bruiser the day before, and up we went. Out of breath and on top, Bruce called over to me. Bruce and Shane had four Rams. We glassed and either they were smaller than we thought, or the big one fled. We followed the Rams to see where they took us. They crested into a draw. Bruce was hot on their trail at that point. Bruce and I had Shane and Les drive the quads back around the mountain. We were going to hunt over the top and down the mountain. As Shane and Les quietly departed, Bruce and I glassed the area for the Rams we followed. That is when it struck me. This was the same canyon that I'd missed the Ram in on the first hunt. Then, "crack", I looked down the canyon and there was sheep below us batting heads. Immediately my adrenaline jumped.

Daylight fading fast, we had to move if we were to get a better look before dark. We stayed high above all the activity in hopes we wouldn't get noticed. Then, Bruce stopped in his tracks. "There ", he said. "They have us." My heart sank. As I surveyed for the sheep, Bruce said,"see the antelope looking at us." We changed tactics so as not to spook the antelope, and lose the sheep. Down we went, careful not to get pinned down by the sheep or other wildlife. WE got down to where the sheep were, and they had moved down the canyon from where we had last seen them. Down we went.

In the late evening they were on the water. We snuck to the water hole. No big Rams in sight, only ewes and small Rams. We looked out to a flat on the mountain and there was a Ram trotting away from us. "Hey Bruce", I said. We glassed, and sure enough, it was Silver Dollar. So far, Silver Dollar was the best Ram we had seen closes enough to judge. I told Bruce that we should quietly leave and come back the text day. I was not looking forward to the steep climb down, or back up in the morning. Then, from no where, here came Dollar, back from the flat. We watched as he came underneath us and out of sight in some ledges 400 yards away. We were then running out of daylight. Out of no where, a young Ram jumps up on a rock down by the ledge where we last saw Dollar. Bruce turned to me and said, "Well, I said I'm here to hunt, not wait". When the sheep jumped down off the rock, we went straight for the rock.

Marching down hill, I felt I'd been there before, and I had. We didn't know what to expect, but the last light press was on. We closed 300 yards fast and quiet when Bruce turned to me and said, "There pointing below us less than 100 yards". I whispered back, "Is Silver Dollar?" I put the crosshairs on the target. Bruce whispered back, "That's, him!" It was then that I saw his tell- tale horn. Bang!! That's the feeling I longed for. He dropped in his tracks. It was a perfectly clean shot. As we walked up, I was in awe of this majestic, beautiful animal that I hunted and killed after 12 days in the field. The culmination of feelings was intense to say the least. My injury, the first missed shot, the mountains, the majesty, and the accomplishment. This was a trophy Ram by any standard. I floated off the mountain that night with my Ram on my back and my friends Bruce, Shane, and Les (Griz) floating behind me.

Provided By,

Guy M. Wells
Las Vegas, Nevada
---

From Donald N. Colvin....
During my many years of hunting, I have used several guides. My experiences with each hunt and guide have differed substantially. I have come to understand what makes an acceptable guide and I know what makes a great guide. Bruce Hudson is a great guide.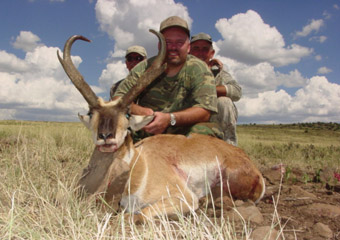 In 2007 I finally drew an antelope tag in Arizona. Since this tag was so precious, I wanted to make sure I was going to have a great hunt.

When I first spoke with Bruce on the phone, I quickly ascertained that I was dealing with a real hunter and a first rate guide. Bruce had already thoroughly scouted the area BEFORE we got there and was very familiar with the terrain and where the animals were. I was also thoroughly impressed to hear that Bruce used quality optics. When we got into camp he had three pairs of Swarovski binoculars (one of which he was kind enough to loan me), a range finder, and a Swarovski spotting scope (with three different mounts). Great guides scout and use top quality optics, Bruce had these areas thoroughly covered.

Bruce ran an excellent camp and worked well with the other guide. Bruce's equipment was all first rate and his hunting skills were superb. He was attentive to my needs as a hunter and client.

My hunt would have been a great hunt even if I hadn't taken a buck. However, a little luck and a lot of work on Bruce's part, produced a magnificent animal which will make Arizona book! I am told it was the biggest Antelope buck taken in that unit and one of the biggest in the state taken this year.

Bruce is a professional hunter and guide and it's obvious he takes great pride in it. At the conclusion of my hunt, I offered Bruce my personal and professional recommendation should he need it. I have never applied in Nevada, but now that I have found such a great guide I will be applying for all the Nevada hunts and look forward to using Bruce as my exclusive guide.

Therefore, it is with great pleasure that I recommend Bruce Hudson, of SilverGrand Outfitters.

Sincerely,

Donald N. Colvin
Newport Beach, CA.
---

From Bill Rafti....
Just back from my Archery Antelope Hunt, and boy am I bushed. The I, being Bill Rafti.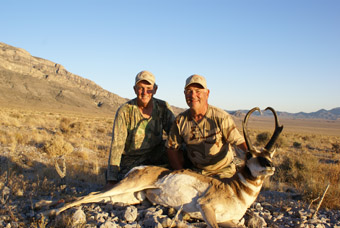 We departed for Area 133 just north of Rachel on Sunday Aug. 8th, The we, was My friend and Master Guide Bruce Hudson of SilverGrand Outfitters and me.. We were joined in the field by Bruce's Associate Hans Frahm who took a break from his Archery Elk hunt to spend some time with us and lend a hand scouting.

Camp was a 35 foot Fifth Wheel Toy Hauler with all the comforts of home. Ah the rough life of the Hunter.

Day one was set up the blind at 4:00 AM and wait for the Big Buck to come in. Well he almost did but the blind had the girls a little spooked which led to the choice buck hanging back and bolting without his AM visit to the waterhole. A smaller buck, about l4 inches, came in later but we passed on him. His horns were uneven. He was interesting due to a nice pink ear tag with the number 5l on it. After two and a half days of seeing him we moved out and spent the third afternoon scouting a different area to which we retumed about four AM on day 4, setup the blind and were rewarded by the appearance of two nice bucks with their ladies. The dominate buck offered the first opportunity and though not the very best angle it was a very makeable shot which yours truly placed a 'tad' bit back of ground zero. That was about 6:20 AM. He ran about 200 yards and laid down, we thought he would die. Not so, after a while he was up and moving but unable to run with fletching showing on the right and the broad head on the left he went abouta thousand yards before laying down to die again. With scopes on him we gave him more than an hours to expire before taking off to gather him up. This sequence repeated all day, well a half day (12 hours is a half day no?) Every time we got within four hundred or so yards he upped and moved on. Towards the end of the day we actually passed him by presuming the wrong animal. When we realized our error we were lucky enough to see him rise up and head back down the hill. When he stopped walking we also did in hopes he would lie down again. While waiting I settled below the bluff to be out of sight while Hans kept the l5s on him. After about l0 or so minutes Hans said, I think he just keeled over, I'm not sure but he just dropped out of sight. We slowly stalked the 400 yards and in fact found that the poor animal had given up the ghost. I had to explain to Hans the George Cloony talent of Starring at Goats.

By the time we (Hans) hiked out and hooked up with Bruce to return with packs and gear it was pushing dark. Took our ego pics, dressed out the goat and hiked out. It was l0:30PM. Wow! Does the word bushed work here?

I'm sure Bruce is giving serious thought to begging out of our AZ Elk hunt. But in the end it was a rewarding experience to a novice Archer. Check my score at our Archery shoot to verify my experience level.

Sincerely,

Bill Rafti
---
From Paul H. English....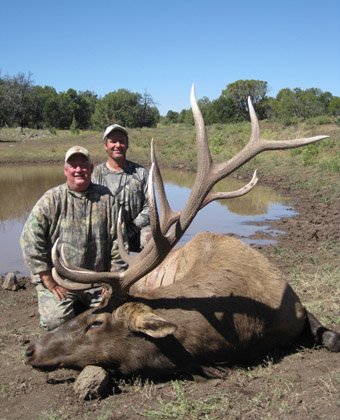 I have known Bruce Hudson since 1995. I have been on 4 hunts guided by Bruce; one early bull elk hunt (unsuccessful), one javelina hunt (successful), one Merriams Spring Turkey hunt (successful) and one archery bull elk hunt (successful). All hunts were outstanding due to the fact that Bruce is extremely experienced in his trade. Even the elk hunt, which I elected not to shoot, Bruce provided me with 15 opportunities to harvest a quality bull. He knows how and where to hunt each species of game animal, making the hunting not only enjoyable, but successful. He is extremely well prepared for the areas we are hunting, including knowledge of the terrain we will be hunting and weather conditions we may encounter. Bruce provides outstanding accommodations in the field and his culinary skills are beyond reproach.

Mr. Hudson is a man of enormous character and sense of pride. He knows hunting regulations and his hunter ethics are impeccable. Bruce is always cognizant of what the hunter requires out of the hunt and has always delivered to my expectations. He strives for a total quality experience and I have never been disappointed. Bruce is more like hunting with a friend than a guide as he treats you like a person, not just a client. He is an easy person to talk to and answers any questions about the hunt I may have.

Few people I have ever known could compare with Bruce not only as a person, but as hunting guide.

Sincerely,

Paul H. English
Santa Fe Springs, CA.
---
Contact Information:
Bruce Hudson
SilverGrand Outfitters
1268 Seminole Lane
Henderson, NV. 89015
(702) 743-8389
azbiggamelv@hotmail.com
Licensed in "ALL" of Nevada and Arizona
with Special Use Permits in place.